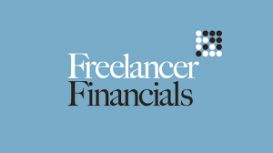 Freelancer Financials: a brand you can trust.

We now stand as one of the most instantly-recognisable brand names in mortgage and protection insurance products for contractors and freelancers across the UK. Furthermore, we're one of the UK's largest specialist mortgage brokers in our own right, our expanding team currently boasting more than 20 advisers and support staff.

We're not one of your run-of-the-mill mortgage brokers. How come? Because we understand that the approach to a contractor's mortgage application is completely different to that of someone who's permanently employed.
Even to this day, new clients bemoan the fact that front desk mortgage advisers at High Street banks still don't "get" contracting. Therefore, the need for a mortgage specialist like us, committed to serving the contractor community, is greater than ever.

To date, we've helped thousands of contractors secure mortgages using a combination of our award-winning mortgage service and solid industry connections.

Our close relationships with key decision makers at mortgage lenders, whom, like us, are familiar with all aspects of contracting, offer you the guarantee that you're getting the best advice on the market from people who truly understand the way you work.
Why you should choose Freelancer Financials:

Our reputation has made us the natural choice for contractors seeking confidence in a recognised authority who can help arrange their mortgage and necessary protection requirements.

Our friendly team of advisers do just that, working with you to secure the best mortgage deal aligned with your unique circumstances. In addition, we'll discuss the level of protection cover you may need to maintain your livelihood and income, should the unforeseen happen.

As a contractor, your status is unique. We pride ourselves on the level of customer service our team provides, addressing each and every client on an individual basis and understanding their specific requirements.
Our Promise to you:

We want you to be as satisfied with our service as have been the thousands of contractors we've helped in the past. It is, and has always been, our intention to work openly and honestly with all of our clients.

Our levels of client retention and their recommendation of our services prove to us that our approach with contractors is working. Let us now prove the same to you.

Special Offers

Find the best mortgage rates with Freelancer Financials. When compiling our best buy tables we choose the best mortgage deals from across the UK market, including deals that are exclusive to us.

You can compare mortgages from all the UK's Contractor-Friendly Lenders to find the best mortgage deals available based on your contract rate alone. Whether you're a first time buyer, moving home or remortgaging, we'll find the cheapest mortgage deal to suit you.

Getting the right mortgage or remortgage deal can save you £100s each month. But it can be a nightmare knowing how to get it spot on. At Freelancer Financials our trusted advisers are on hand to guide you through the best deals.
Services
We specialise in arranging mortgages for UK contractors.
Unlike traditional brokers, we never penalise you when it comes to sourcing a mortgage.
The reason being, we've set out to make contractor mortgages our business.
The most cost effective way of getting money out of your company tax-free to invest and save for your retirement.
An essential part of our service is protecting contractors and their livelihood from every eventuality.
This includes:
Income Protection - Policies that help pay the bills by replacing part of your income if you are unable to work for a long period of time because of illness or disability.
Relevant Life Plan - Use your Limited Company to pay for your Life Cover and stick it on expenses

Critical Illness cover - Pays you a tax-free lump sum on diagnosis of a critical illness.
Life Insurance - Life Insurance pays your debts and supports your dependents when you die. The policy will settle any outstanding bills with your creditors. In short, contractor life cover offers peace of mind today, for whatever tomorrow brings.

Reviews and Ratings
We do not have any reviews about Freelancer Financials available right now.